Whole Foods Market chooses West Grove for new McKinney location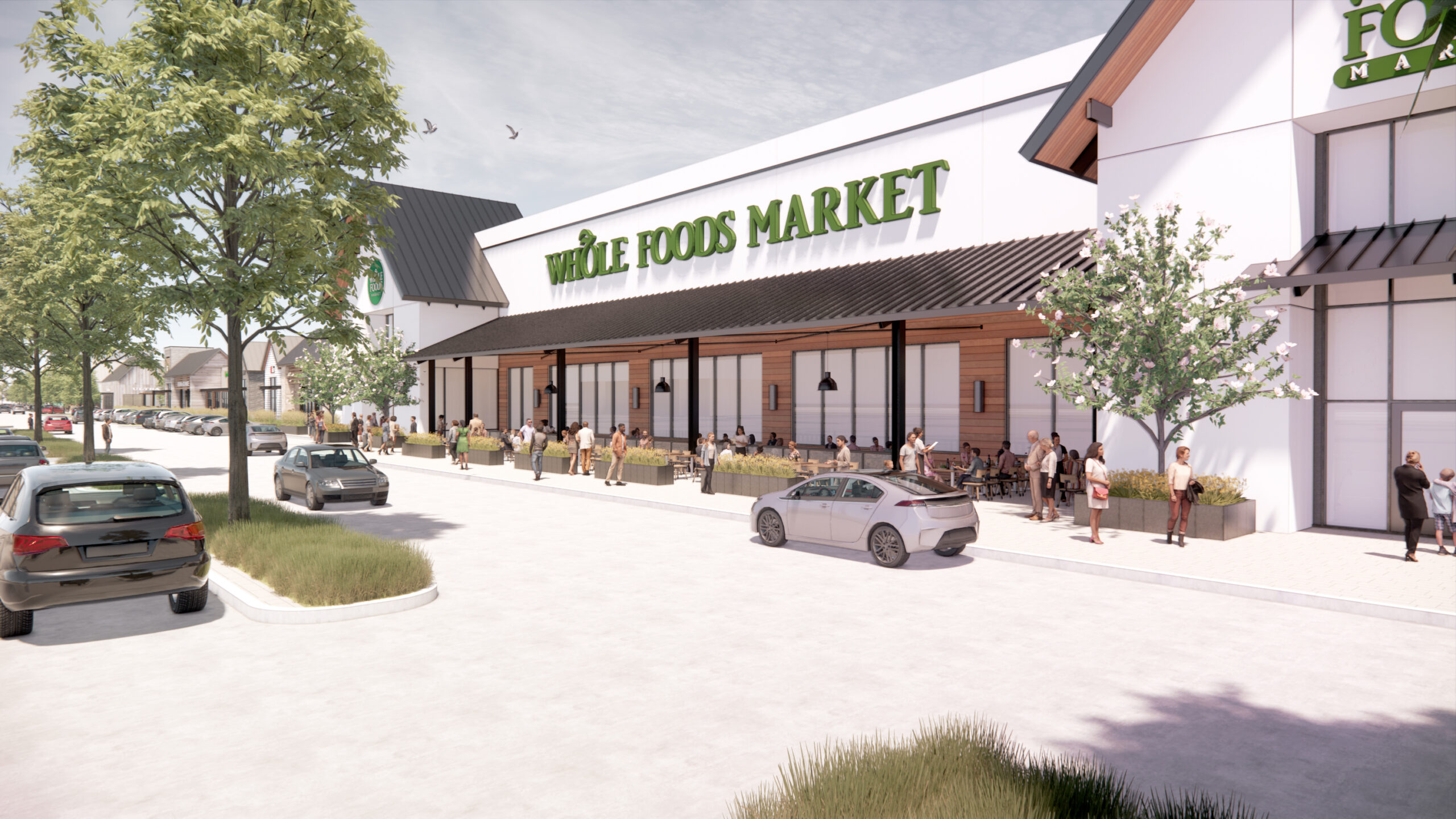 Dallas-based De La Vega Capital has secured Whole Foods Market as the anchor tenant for West Grove, its new mixed-use development on U.S. Highway 380 and Custer Road in McKinney. The 600,000 square foot project will include retail, dining and entertainment venues, as well as 420 luxury residential units, 55,000 square feet of office space and a two-acre park.
The new Whole Foods store will be the first in McKinney. "West Grove is designed to bring people and a growing city together," said Artemio De La Vega, President and CEO of De La Vega. "A central green space and a thoughtful mix of experience-driven outdoor retail and dining spaces will cultivate a sense of community."
A public-private partnership with the town of McKinney, West Grove was engineered by Gensler. The nature-inspired development will feature outdoor patios, overhead walkways and lush landscaping. The east segment of the project will include The HUB, which will include a central lawn and performance stage, indoor/outdoor dining and entertainment space.
RETAIL
PMB Capital Investments is the kick off of phase two of The train station, his 134-acre, $500 million project in Sachse. The first phase ended with the opening of two new restaurants: The Brass Tap and Manny's Tex-Mex, followed by Pho Station and Cold Stone Creamery. The new addition will include 18,000 square feet of retail and restaurant space, 297 apartments, an additional phase of single-family homes, and office and industrial buildings. PMB Capital is also redeveloping Heritage Park as part of the development. Construction will begin this spring and is expected to be completed by the end of 2023.
Red crab restaurant will occupy 6,417 square feet of retail space at 3840 NE Loop 820, acquired by a Virginia-based buyer and sold by a California-based company. David Zoller and Corbin Tanenbaum along with Weitzman handled negotiations for the seller. Ari Mann, Johsh Mann and Tommy Tran with NAI Robert Lynn represented the buyer.
The pie dish has leased 1,200 square feet at The Arbors on Custer located at 8175 Custer Rd in Frisco. Brian Sladek and Chris Flesner of RESOLUT RE represented the owner. Kelly Mount of J2 Commercial Real Estate Group represented the tenant.
MIXED USE
Biotech+ Hub at Pegasus Park hosted the Boston-based company BioLabs to the project. The company's new 37,000 square foot coworking lab and office is at 3060 Pegasus Park Drive. BioLabs is the latest tenant in the 23-acre, 750,000-square-foot mixed-use development of Pegasus Park, developed by J. Small Investments and Montgomery Street Partners, in conjunction with Lyda Hill Philanthropies.
INDUSTRIAL
Creation equityin partnership with Crow Holdings Capital, recently launched its brand new industrial project, Mesquite 635. At the southeast corner of Interstate 635 and State Highway 80, the three-building project will total 555,790 square feet.
FirstSource Builders leased 68,250 square feet in Carrollton. The company was represented by Reid Bassinger and Trey Fricke of Lee & Associates. The owner is Link Industrial Properties.
Ferguson Enterprises leased 14,500 square feet of warehouse space at 4800 Lakawana St. in Dallas from GKI Industrial Dallas. Brian Pafford represented the owner. CBRE trapper Graff represented the tenant.
SEVERAL FAMILIES
Polo Industries sold a 180-unit multi-family asset, Las Mariposas, at 2100 E. Loop 820 in Fort Worth. The deal was negotiated by Mark Allen of Colliers. The project consists of 30 buildings on 8 acres.
OFFICE
alliance for children, a children's advocacy center serving Tarrant County, has leased and renovated a 38,000 square foot building at 3609 Marquita Drive in Fort Worth. The new site is the largest of its three locations.
Bridgeway Preparatory Academy renewed 19,200 square feet at the Valley View Commerce Center at 1861 Valley View Lane in Farmers Branch. Brian Pafford of Bradford Commercial Real Estate Services represented the owner, Kennington Valley View. Nick Lee of NAI Robert Lynn represented the tenant.