Shearman and Sterling are the first to sign a lease at The Link at Uptown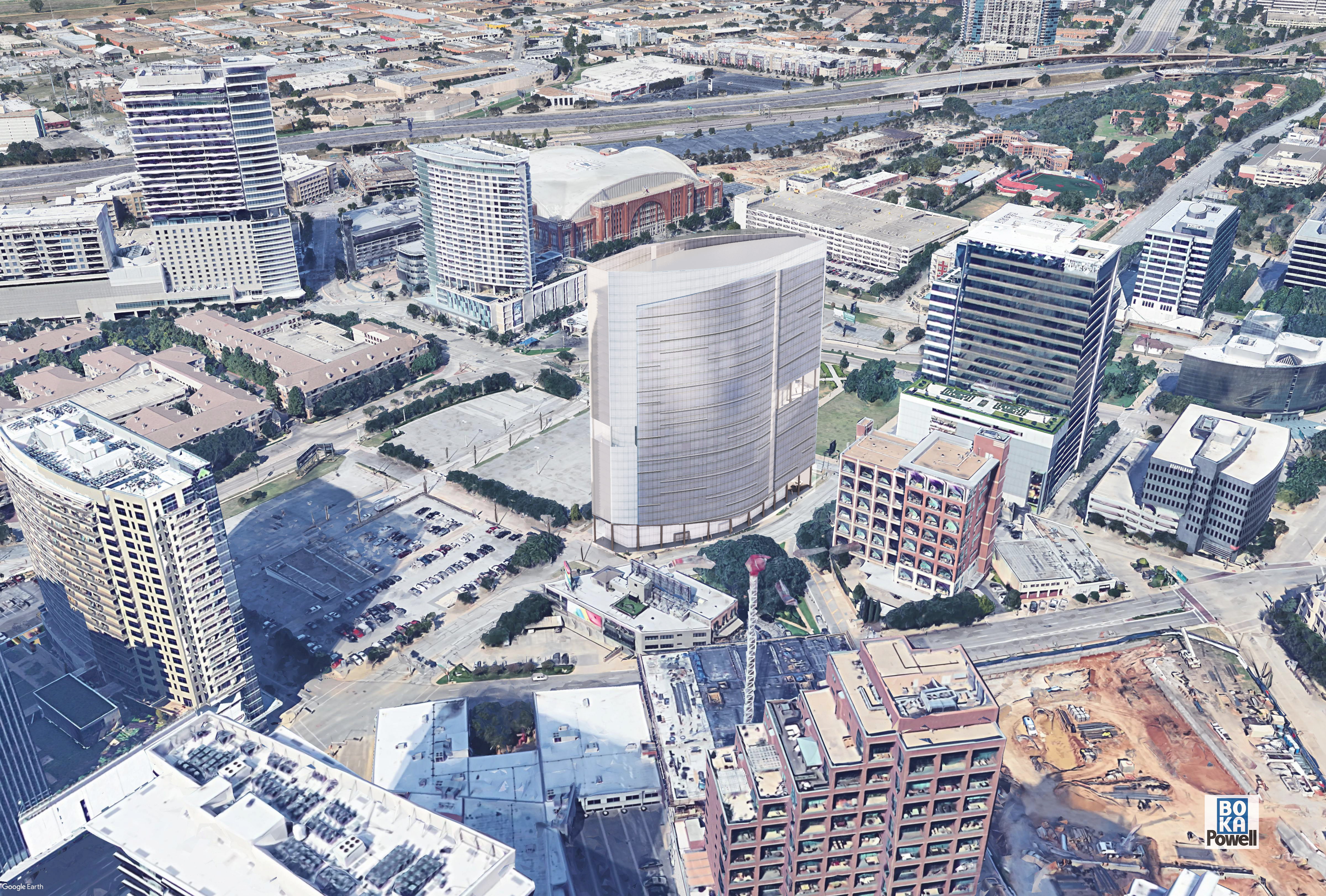 Shearman & Sterling, a global law firm, has become the first tenant of The Link to Uptown, a 291,968 square foot office development located at 2601 Olive St. in Uptown. CBRE's Chelby Sanders and Ryan Buchanan represented the tenant in the 22,838 square foot lease. Blake Shipley of JLL, alongside Sarah Kennington and Bryce Jackson of Thirty-Four Commercial, represented the seller.
"We are thrilled to move to The Link at Uptown, which provides a flexible and engaging environment for our employees, including exceptional guest features, staff hospitality and well-being," said Bill Nelson, Manager from the Texas offices at Shearman & Sterling in the release. . "This move is critical as we continue to expand our offering in Dallas and throughout Texas. The continued growth of our Texas offering is part of the continued execution of our global strategy to expand our core practices with the greatest potential for the firm, aligning with market opportunities.
The 25-story office tower serves as a link between Uptown, Victory Park and Downtown. The building offers tenants luxury amenities, including two ground-floor restaurants, overnight executive suites, and a full floor with an outdoor terrace with city views.
Kaizen Development Partners purchased the property in November 2018 from restaurateur Mike Karns. They began preparations for the construction of the office tower in early 2019 and were completed in late 2021. Marketing and leasing leader JLL brokered the sale between Karns and Kaizen.
"Dallas continues to set the pace in the overall office market in the region with our robust offerings," said Derrick Evers, managing partner at Kaizen Development Partners. "As a result, the commercial real estate industry continues to innovate as more businesses relocate to Texas and expect high-quality office space. We are delighted to welcome Shearman & Sterling as the first tenant of The Link at Uptown.
Office
Quadrant Investment Properties, a Texas-based real estate investment firm, and FCP, a Maryland-based private real estate investment firm, announced plans to develop a 120,286 square foot office building at 1333 Oak Lawn Ave., in the heart of Dallas' Design District. Transwestern's Paul Wittorf, Kim Brooks, Laney Underwood and Natalie Serio will oversee the rental of the property.
"For some time now, we've felt a shift in the way office users approach their space needs, with a greater focus on retaining the culture of their companies," said Chad Cook, founder of QIP. "We believe there is significant demand for a smaller-scale office building that still offers the full non-market amenities offering. Thirteen Thirty Three is the culmination of this thought process.
With the project launching later this year and expected completion by the third quarter of 2023, the podium-style building will feature 10 stories, with nearly 118,000 square feet of office space on floors six through 10, according to the press release.
QIP is strategically focused on the Dallas Design District, acquiring 23 properties in the area, including a 16,000 square foot office for the headquarters of ridesharing company Alto.
"We are excited about what the future holds for the Design District," Cook said. "It's the perfect canvas to create a diverse portfolio of hospitality-focused offices. We hope to provide a unique experience in Dallas and capture companies looking for a different way of working.
VariSpace Coppell, which kicked off in June 2021, celebrated the construction midpoint. Opening in the summer of 2022, the three-story VariSpace Coppell will add 180,000 square feet of office space to the market, with 120,000 square feet available for lease to businesses. Vari's new headquarters will occupy the remaining 60,000 square feet. VariSpace Coppell offers lease terms starting at three years and 10,000 square feet. This is Vari's first new construction after VariSpace Las Colinas and VariSpace Southlake.
Peggy's madness entered into a lease for 4,320 square feet of office space at 10580 Newkirk St. in Dallas, with Riverside Home Medical Supply. Bradford's Vice President of Commercial Real Estate Services, Jason Finch, represented the tenant. Alan Clark of JSC Realty represented the owner.
Texas International Branch leased 3,549 square feet of office space in the 360 ​​Tower, located at 1901 N. Hwy. 360 in Grande Prairie. Jared Laake, vice president of Bradford Commercial Real Estate Services, alongside Erik Blais, senior vice president, and Richmond Collinsworth, senior vice president and managing partner, represented the owner in the deal.
Bradford Commercial Real Estate Services coordinated a lease of 3,000 square feet of flexible space in Hackberry Business Park in Frisco for K&L Construction. Bradford Commercial Real Estate Services Vice President Jason Finch represented the owner. Ruth Harris of Kelly Harris represented the tenant.
Schoellhorn renewed 2,721 square feet of office space in Arapaho Gardens in Richardson. Paul Richter, vice president of Bradford Commercial Real Estate Services, represented the owner. Michael Terry of Michael S. Terry Commercial Real Estate represented the tenant.
Retail
Disney Investment Group announced the sale of Lewisville West, a 129,129 square foot grocery shopping center in Lewisville to Newport Capital Partners. The mall has 23 tenants, including El Rancho Supermercado, Liquor Den, Jefferson Dental, Verizon, Cricket Wireless, Starbucks and others. David Disney and Adam Crockett of DIG represented the owner and buyer, Newport Capital Partners.
Henry S. Miller Equity Partners represented Oakmont Land Six in the sale of Main Street Crossing, a 24,000 square foot shopping center located at 615 Main St. in Frisco. Frank Bullock, Michael Gresback and Maury Levy brokered the deal, representing Henry S. Miller Equity Partners. Tim Axelrod of ShopCos. represented the purchaser, Main STX.
National retailer boot barn leased 12,407 square feet in Mansfield Towne Crossing. Andrew Shaw, Steve Ewing and Connor Cox of Edge Realty Partner represented the landlord and CBRE represented the tenant in the agreement.
Industrial
Based in Dallas Real Estate Capital Westmount is in partnership with Ares Management Corp. to recapitalize an industrial portfolio of 51 assets totaling 6.1 million square feet in the Chicago and Milwaukee markets, with the majority of the assets located near Chicago's O'Hare International Airport. The portfolio, which is currently 98.8% leased, primarily contains multi-tenant industrial properties, according to the statement.