Real estate challenges in Rutherford County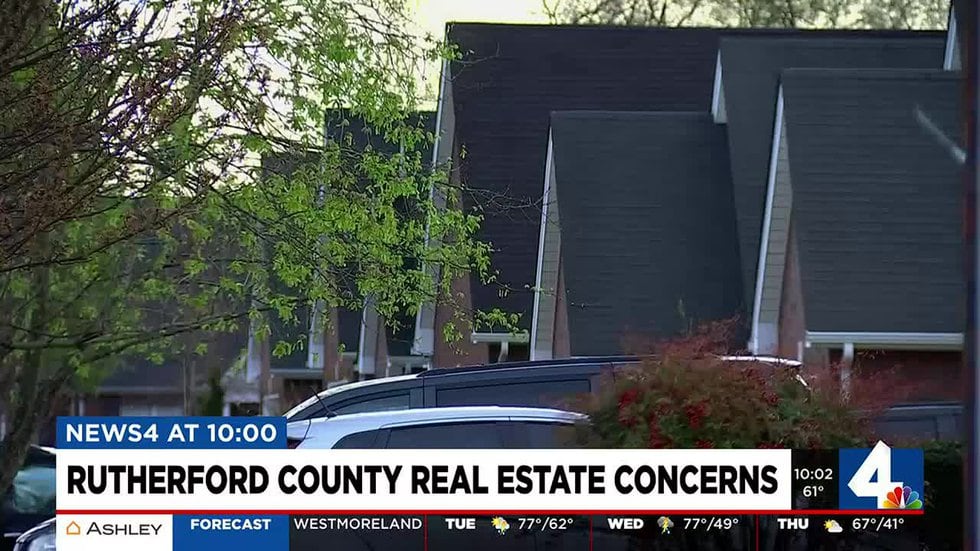 MURFRESBORO, TN (WSMV) – Rutherford County officials told News4 on Monday that the real estate market isn't what it used to be.
Buying a home in Rutherford County is becoming increasingly difficult due to out-of-state real estate investment firms, according to that county's property appraiser.
Rob Mitchell of Rutherford County said that currently 10% of the entire single-family real estate market in Rutherford County is owned by out-of-state companies. Rutherford County realtors say this trend is having the biggest impact on first-time home buyers.
"One of the biggest is Progress Residential operating in this market," said Rob Mitchell, property appraiser for Rutherford County. "We have people moving to the central Tennessee area who will be looking for a home. These large, multi-million dollar corporations come in, and they pay cash and close in a week," he added.
"So the more houses we looked at, the more offers we lost. We ended up having to rent for a while here," said Adam Robb, who just bought a house in Rutherford County.
Robb just closed his house in February. And he knows the difficulty of the market, which also includes competition with out-of-state real estate investment firms.
"Even we would offer you to know about the eventuality of valuation or valuation discrepancy, as well as pass or fail inspections. But it looked like we were beaten so by the price of $25, $50,000," Robb said.
"On most of the homes we see listed, there are multiple offers. We see many investment companies as part of these deals. It creates a more competitive environment," said Chris Garrett, principal broker and co-owner of Weichert Realtors The Andrews Group.
Garrett said the competitive environment has left homebuyers room to get creative to get their offers accepted.
"In many cases, they have to exceed the list price. They have to do what we call appraisal gaps where they agree to bring in money if there is no appraisal. It's something that sellers are looking for. In fact, they sometimes waive home inspections. We don't recommend that they waive a home inspection," Garrett said. "But if you're competing, there are a lot of buyers who would choose to do that or choose to do a successful home inspection and not ask for the items to be repaired. So there are a lot of things buyers need to do for an offer to be accepted at this stage," he added.
With 10% of Rutherford County's entire single-family real estate market held by real estate investment firms, News 4's Tosin Fakile asked if 10% is a lot for the county.
"This represents approximately 14,000 packages. So 14,000 houses are not available for purchase because they have been taken off the market. And Rutherford County is jam-packed with new people moving into the community. So we're increasing by 20 to 30 people every month, not having those properties available to buy to create a home," Mitchell said.
"I love the movie It's a Wonderful Life, and it tends to turn central Tennessee into Potterville. You have big corporations that own all the assets; families are deprived of generational wealth because they can't creating that wealth through ownership, and that's a real problem," Mitchell added.
Experts say this adds to a market that already has limited inventory.
"Any time you know someone is buying a home that they don't own, that limits inventory for homeowners who are in the market," Garrett said. "Where we see the most problems getting offers accepted are government backed loans, FHA very little money or even VA. So our veterans are impacted by this real inventory restriction,"
But all hope is not lost. Garrett said homebuyers could do things to gain an edge over investment companies.
"Most investment companies are going to have a structure that they have to adhere to. They're going to have some type of inspection; they're going to have a certain number of days to close. There are some things they can't really deviate from because they bid so many markets. They have to have some sort of rigid structure," Garrett said. "Often they can't offer occupancy contracts. I would say be very clear with their offerings and maybe offer occupation and some things like that that will give them an edge over the investment companies," he added.
Tosin Fakile of News 4 asked if there was anything the county or towns in Rutherford County could do to help homebuyers.
"That's the perfect question. Counties are limited by statute and state law with what they can do. Cities have more leeway in what they can do through regulations of zoning and the rental property licensing process," said Mitchell of Rutherford County.
Robb, who just bought a house, had this encouragement for those who are still trying to buy a house while competing with real estate investment companies.
"We just have to keep going. You just have to be determined to find a home and realize that the house you find may not be the perfect home. I think you kind of have to give and take here and there. But definitely at the same time be happy and make sure it's going to be a good house overall," Robb said.
Copyright 2022 WSMV. All rights reserved.