Purple office tower arrives in DTLA Arts District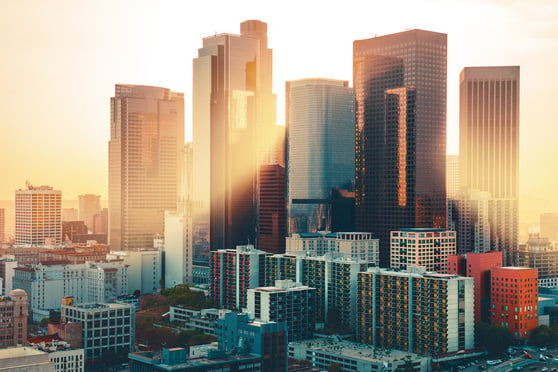 Downtown LA's thriving arts district has attracted innovative office projects this year that are transforming the skyline – and now come plans for a building wrapped in purple.
You read that right: Skanska USA Commercial Development has filed plans to build a 15-story office tower at 1727-1829 East Sacramento Street in DTLA — plans that include wrapping the building in alternating purple and magenta stripes.
The New York-based developer plans to construct a 290K SF building, including 13K SF of ground-floor retail and restaurants on a 1.84-acre site currently occupied by two single-story industrial buildings that will be demolished to make way for the purple building, which will be known as 1811 Sacramento Street.
Skanska acquired the two warehouses for $19 million in 2020.
The 1811 Sacramento building, which will include interior courtyards and terraces, will feature floor-to-ceiling windows with industrial-style frames, enclosed in a swirling cage of metal strips in shades of purple. The building is designed by Chicago-based architects Perkins & Will.
Skanska is also building a four-story office building at 9000 Wilshire Boulevard and has filed plans for a three-story office building at 8633 Wilshire Boulevard.
East Coast developers have flocked to DTLA, which is quickly becoming a hub for entertainment and media offices, as well as film production.
In June, New York-based East End Capital bought a 15-acre site in the Arts District for $240 million where it plans to build a studio complex comprising 17 sound stages and up to 400,000 square feet. office space and support.
East End purchased the property, including two warehouses at 1338 E. 6e St. and 1321 Wholesale St., from a group that includes MSD Capital, Access Industrial Management and Irvine-based developer Sun Cal.
According to a report on the East End website, Oxford Properties Group provided a $160 million loan to facilitate the purchase.
The property is located about a mile from a site on Jesse Street that East End is converting from a cold storage facility to a 237K SF film production complex with four sound stages.
East End has three other studio projects in development, including a project in Glendale involving the expansion of an existing production studio and the construction of a 410 square foot production complex on San Fernando Road.