Lewis County to invest $2 million to revitalize dormant and dilapidated buildings | Business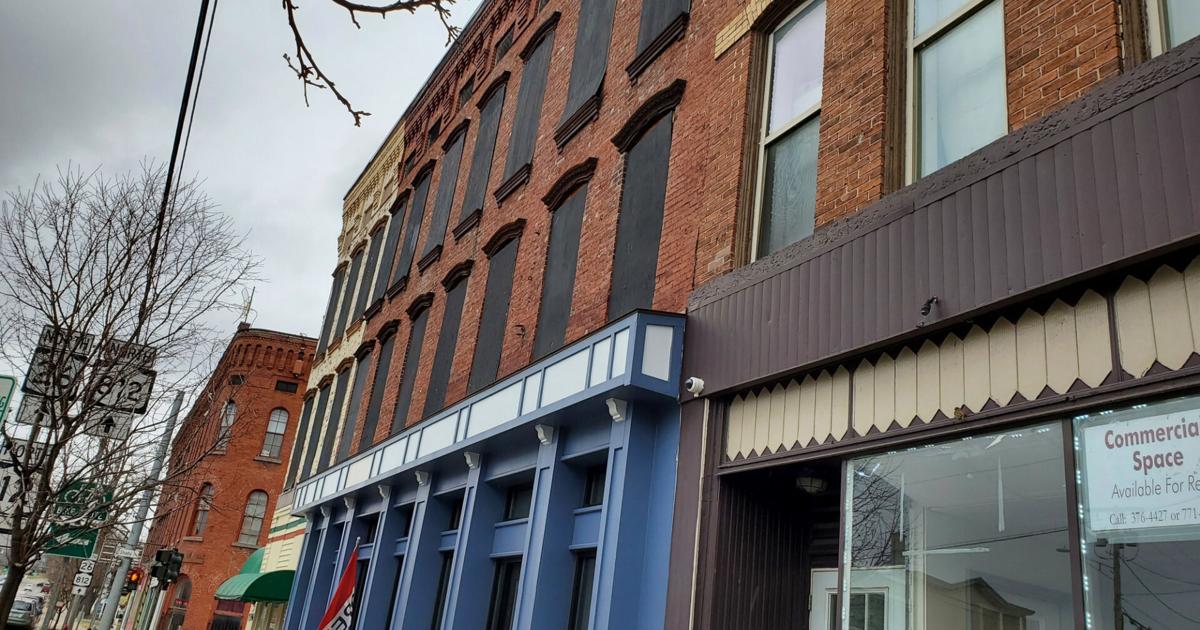 LOWVILLE — Instead of focusing on cleaning up destroyed buildings by demolishing them as originally planned, a new program in Lewis County is focusing on revitalizing properties with owners motivated to make room for the growth of businesses, new businesses and the overall improvement of county municipalities.
Naturally, Lewis executive director Brittany B. Davis presented the vacant property revitalization program to the county's finance and rules committee at its March 15 meeting.
"Lewis County is looking to invest $2 million in commercial properties in our smaller communities through a public-private partnership," she said. "Naturally, Lewis will work with private building owners to transform vacant, unsafe, degraded and potentially hazardous buildings into usable spaces for businesses to create better downtowns and improve our communities."
The Lewis County Development Corp., which falls under the Naturally Lewis economic development brand for Lewis County with the County Industrial Development Agency, will oversee the program and manage program funds.
The program is funded with $1 million from the county's American Rescue Plan Act money and $1 million from county funds, which will be distributed as one-time reimbursement grants.
Homeowners can apply for grants to cover construction costs and some incidental costs, depending on the project. There is no minimum or maximum grant amount and there is no matching requirement as with other grant programs.
"We understand that every project is going to be very different, so we really need to take a not one-size-fits-all approach, but an individual one to really evaluate the whole project as a whole," Ms. Davis said.
She said it's not just entire buildings that are eligible for the program.
Individual floors of a building that may, for example, have an active business on the ground floor, but one or two floors above that have not been used for a long period could be considered if the owner submits a proposal to "revitalize" the dormant floors.
Prospective applicants will complete a basic admissions form on the Naturally Lewis website, which will host the program webpage. The intake form will ask for building details, environmental concerns like lead or asbestos, and project details.
Completion of the form will be followed by an initial consultation with a Naturally Lewis staff member.
Owners whose projects meet the basic program criteria will be invited to complete a more comprehensive application which will be reviewed by the program committee which has not yet been formed.
This committee will use a predetermined system to award points for every detail of the project, such as potential impact on the community; the level of personal investment and the motivation of the business or building owner to carry out the project; the calendar ; its feasibility; and the need for funding, in addition to any other desirable aspects the committee hopes to find in the proposed projects.
The amount of funding awarded will be based on the score.
"These are very complex and complicated projects, so we can't put a single number on (all the grants)," Ms Davis said.
The development corporation's board of directors will give or withhold final approval.
Providing the financial means to bring the structures back to life is only one step in the program. It will also provide "support, tools and resources to…help turn vacant buildings into usable spaces," according to Ms Davis.
These tools and resources could include reuse studies; additional grant funding opportunities; business planning; and commercialization of the building or space, among other problem-solving engagements conducted by Naturally Lewis staff and its partner organizations and agencies.
"It's the full program. It's support. It provides the tools necessary to make these projects happen," added Ms. Davis.
Once the program committee is formed and the committee establishes the point system, Ms. Davis plans to market the program beginning in April, with county lawmakers asked to attend or observe the meeting to help.
"I'm sure you all have a building in mind in your community that could benefit from funding, support, but what we're really looking for are some of these motivated building owners, so we really need of you to send people and projects our way," Ms. Davis said.
Grant applications will be accepted on a rolling basis until funds are exhausted.
"It could take two years, it could take a year, it could take three years," Ms Davis said.
The initial idea floated last year was for a property 'cleanup fund', according to Ms Davis, but research involving her team and county officials made it clear that the complexity and expense of cleanup of properties such as the old school in Lyons Falls or the old cheese-making building in New Bremen had more hurdles than practical for a program meant to be larger than one property.
"We were looking at what was going to be the most effective use of those funds, what was going to be the best value for money," Ms Davis said.
She also said there are other sources of funding for demolishing a structure and cleaning up the site, so opportunities for unrecoverable properties will continue to be pursued as needed.