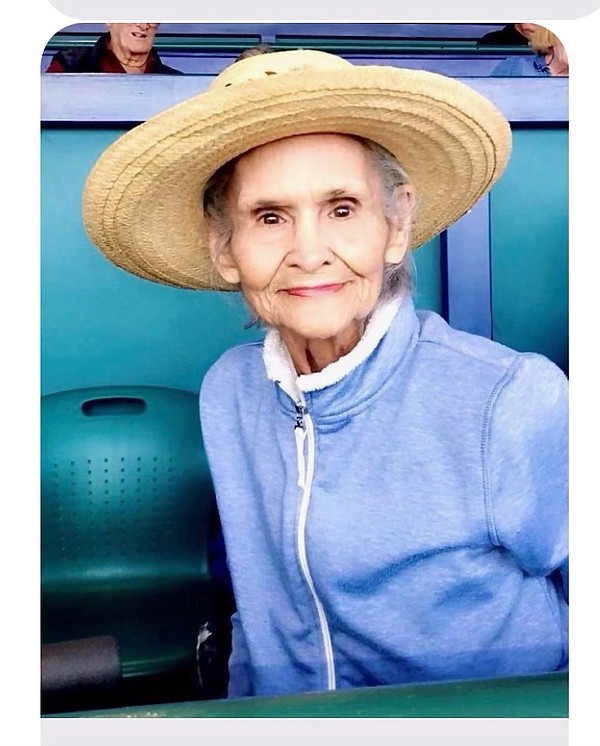 Eugenia Lois Simpson was born on October 27, 1930 at Blakely Camp/Cedar Glades in Hot Springs, Ark., and passed away peacefully on May 5, 2022.
She is predeceased by her parents, Murry and Cathryn Martindale McBee; brother, Murry (Mac) McBee Jr.; Irene Elizabeth Saine McBee; Horace Jerome Wright; and lifelong friend, Hazel Gossett. Eugenia married Floyd Simpson in 1948 and they had four sons until his untimely death in 1964.
Eugenia is survived by her three sisters, Joyce (*Greyhorse) Norman, Margaret (Ray) Coughran and Velma (Larry) VanZant, all of Oklahoma; one brother, Daniel (Debbie) Wright of Fayetteville, Ark.; four sons, Richard and Donna Simpson (Hot Springs, Ark.), Stephen and Kelli Simpson (Tyler, Texas), Bruce and Sally Simpson (Hot Springs, Ark.), and Tracy and Wendy Simpson (Hot Springs, Ark.); nine grandchildren, Christina, Matthew, Jacob, Kelly, Henry, Alex, Ethan, Colson and Mari; great-grandchildren, great-great-grandchildren, nieces, nephews, cousins ​​and a host of friends.
Eugenia is a graduate of Shorter Business College, where she earned a degree in accounting. She worked as an accountant and owned a lot of real estate. Later in life, she landed her favorite job as a mutual cashier in Oaklawn Park and worked there for over 20 years.
Eugenia went by many names, EL, Genia, Lois and Nana, but most of the time she was affectionately called mom by many. Eugenia was a colorful and unique person and she loved lipstick, red nail polish and always wore a hat! Eugenia was best known as being a mom to everyone. She never missed a moment to talk about her boys. When her grandparents arrived, she became Nana, and what a great Nana she was!
Eugenia was a devout and strong-minded Christian, to say the least! She was often referred to as "John Wayne in a skirt!"
Services will be held at 11 a.m. on Saturday, May 14 at First Presbyterian Church in Hot Springs.
The carriers are: Alex Simpson, Ethan Simpson, Colson Simpson, Henry Simpson, Jimmy Dawes, Roger Gossett, Mark Pace, John Muldoon.
After the service, the family invites you to a "Momma" celebration at the Showman's Club, 710 Whittington.
In lieu of flowers, donations can be made to Oaklawn Chaplaincy.