Edmonton explores parking fees, real estate investment and other tools to fund public transit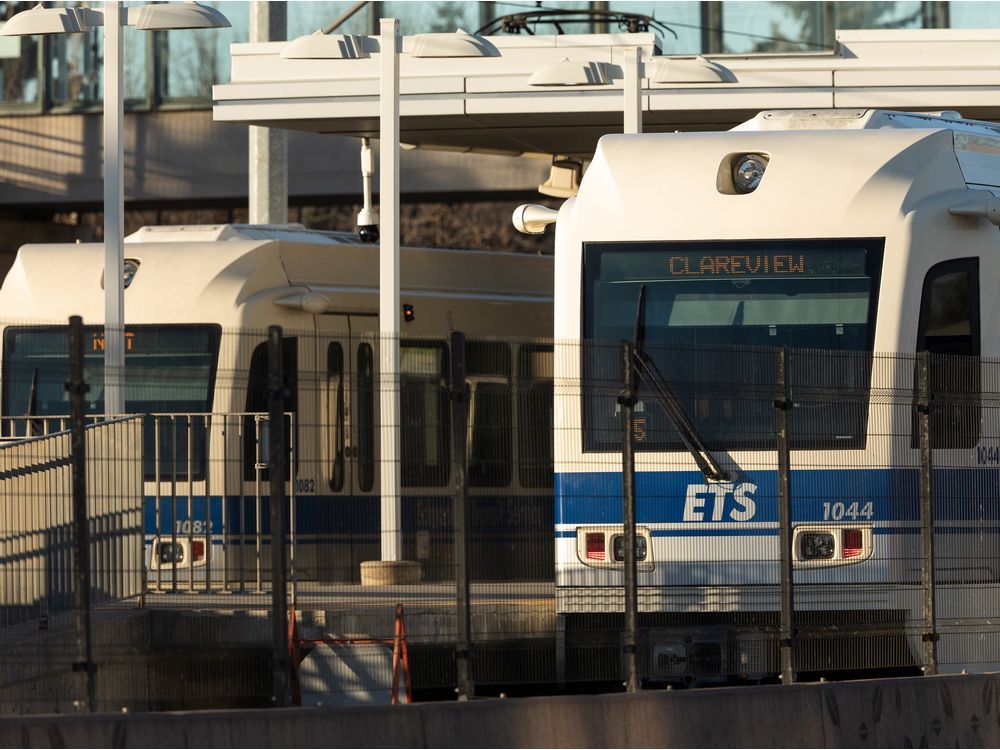 Content of the article
Achieving the city's vision of getting more people on public transit will be a difficult task if Edmonton doesn't expand its abilities to raise money beyond fares, city staff say.
Content of the article
Higher parking fees, a new community revitalization tax, vehicle registration fees, dedicated and recurring funding for public transit in the city budget, and entry into the real estate sector are some of the options Edmonton is exploring to boost the funding pool for Edmonton Transit Services (ETS).
Ridership plummeted in 2020 and fare revenue fell to about $50.1 million, less than half of 2019 revenue. People are coming back to transit, but there's still a gap between what that's being collected and the need for expansion, according to a city-commissioned report by Toronto-based transportation consultancy Leading Mobility. Transit needs constant and stable cash flow and tapping into multiple sources, administrators told a board committee on Wednesday. Hours earlier, the provincial and federal governments gave Edmonton $66.9 million to fill the hole the COVID-19 pandemic had created in public transit ridership — $13 million less than demand. from the city.
Content of the article
Com. Aaron Paquette said public transit is a major economic benefit for the city. But one thing the pandemic has shown, he said, is that it needs stable, predictable funding without raising tariffs.
"The future success of our city depends on this success of public transit. I certainly want, and I don't think anyone else, to see us in an emergency scrambling to keep our public network running. Clearly, we need to diversify the standard model for collecting user fees for public transit," he said.
Staff were reluctant to recommend which options advisers should choose, but cautioned there was no silver bullet.
"No single tool meets all the target objectives. Each comes with trade-offs and considerations," said David Cooper, mobility consultant at Leading Mobility, who worked on the report.
Content of the article
Instead, Cooper said the city should use multiple tools: "If a source faces challenges in the future, the city can fall back on them."
More options
Staff have been asked to explore different ways the city can increase revenue beyond fares. The Leading Mobility report offered 10 potential tools, each with their pros and cons.
Some options seemed to pique councilors' interest more than others, including the community revitalization tax, real estate options, dedicated city funding, parking fees, and asking the province to both allow the city ​​to charge vehicle registration fees and donate some of its fuel taxes to Edmonton.
The executive committee asked staff to analyze money-making potential and risks, report on action plans, and advocate for tools under provincial control.
Content of the article
Paquette, who made the request, said that by increasing financial support for public transit, they can improve service and safety.
"We can fund things like longer routes or faster service. We can make DATS better funded," he said. "If we actually have the public transit system that the public is asking for, it can only have a positive effect…at all levels."
The report's analysis revealed that a fuel tax does not meet the city's objectives. Road use pricing (also known as mobility pricing), a benefit zone tax, a fee for ride-sharing companies and a tourism tax have also been insufficient.
Steve Bradshaw, president of the Amalgamated Transit Union (ATU) Local 569, told the committee that transit is the "bedrock" to achieve the goals of the city's long-range plans.
"Without a dynamic and efficient public transport system, this plan is just paper. If we are serious about the city plan, we need dedicated (municipal) funding for public transit," he said.
Bradshaw argued that parking fees and fuel taxes would discourage drivers from using their own vehicles, although he acknowledged the latter would need provincial buy-in.
"When public transit is a well-funded, clean, safe and reliable option, people will naturally be interested in it."
— With files by Ashley Joannou
lboothby@postmedia.com