City hall to deal with complaints against Frederiksted rum distillery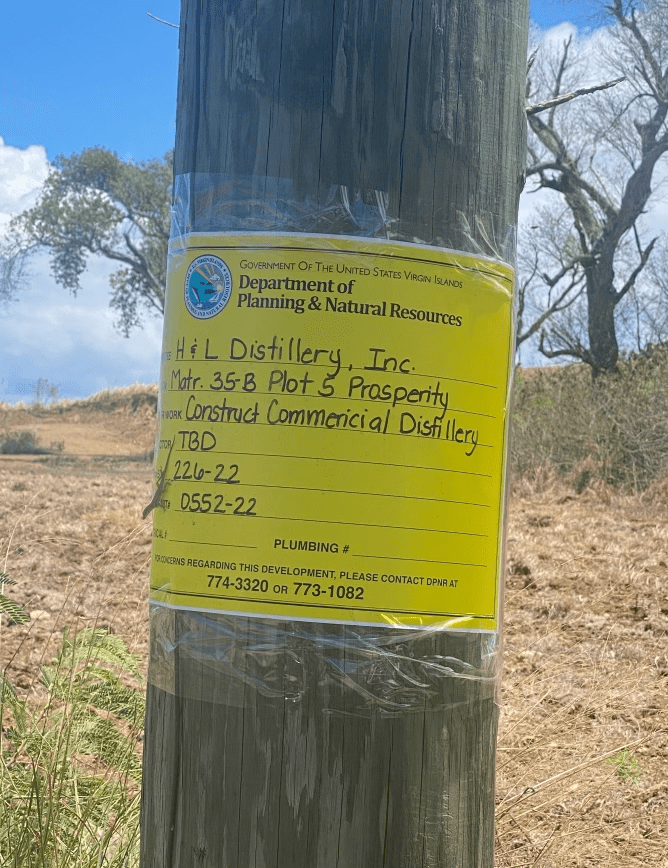 A group of locals protest against the construction of the proposed rum distillery by Raising Cane Farm on farmland. (Photo submitted by Sara Zuckerman)
Responding to protesters' complaints about the approval process for the construction of a rum distillery on farmland in the West End of St. Croix, Senator Kurt Vialet has scheduled a public meeting for 6 p.m. on August 8 at Rotary West.
Law 8569, sponsored by Vialet, was signed into law by Governor Albert Bryan, Jr. in April. Legislation removes term "rum distillation" from activities prohibited on farmland in Title 29, Chapter 3, Section 238. However, they did not change Section 228 which prohibits a distillery on farmland. Until March 2022, distilleries were only allowed on industrial land.
According to a petition started by Prosperity Neighborhood Frederiksted, Bill has opened the door for Raising Cane Farm to obtain planning permission and move forward with plans for a rum distillery on Mahogany Road, surrounded by residential properties. .
Furthermore, the petitioners claim that the building permit was granted without public notice or a public hearing. Construction plans have not been released and there has been no environmental impact assessment, nor have neighbors been notified of the petition states.
Additionally, the petition calls for the permits to be revoked and for Law 8569 to be repealed. As on Sunday, more than 500 signed the petition.
According to the petition, residents are also concerned about issues associated with a rum distillery, such as mold, noxious fumes, waste and waste by-products.
Some neighbors said Raising Cane employees were seen spraying unknown substances while wearing gas masks, filling the innards with debris and illegally clearing land.
Farm owner Robert Apfel is a New York securities and banking entrepreneur. In 2018 he purchased 200 acres of land on Mahogany Road in Estate Prosperity. According to the company's website, the land now produces about 8,000 pounds of cane per acre. He also owns a 1,000 acre sugar cane farm in Aguada, Puerto Rico.
In a meeting a week ago at a Vialet election fundraiser, the senator told about 30 protesters he thought the bill was "good" and an economic stimulus for Frederiksted. He also said they should contact the VI Department of Planning and Natural Resources with their complaints, including groundwater issues and destruction of mangroves. More than one person said they called and their phone calls were not returned.
"This is the first I've heard of environmental concerns," Vialet told the group, adding that the DPNR can issue cease and desist orders for violations.
During this meeting, Vialet said that the distillery would not be similar to Cruzan Rum or Diageo, but that it was a micro-distillery. About 200,000 galleons of rum will be produced per year compared to seven million galleons by the large-scale factories.
Vialet told the Source that the Apfel was renovating the property's historic buildings and planning a tourist destination with tours of the rum factory and reconstructed ruins. There will be 20 additional jobs at the site, he said. He supported the bill and the new law was based on the economic benefits to Frederiksted, he said. However, due to the backlash, he said he would ask that Apfel "not touch anything until we have the meeting".
"You can't blame a senator for wanting economic development," he said.
Sara Zuckerman, who lives near Raising Cane Farm, is one of the residents deeply concerned about having a distillery next to Estate Prosperity. She and protesters who met Vialet believe the law was passed illegally without a public hearing. Some said Vialet showed a "lack of transparency" and failed to exercise "due diligence" in reviewing the bill.
They also complained bitterly about the lack of response from the DPNR. Zuckerman and the others believe that all distilleries, even micro-distilleries, should be located in industrial areas.
"I'm afraid to have a plant in my garden. Although it is a micro-distillery, the footprint of the plant is huge and the plans even show room for growth," she said. "Agricultural land is allowed so many exceptions, I worry about the sugarcane waste and vinasse (distillery by-product) polluting our groundwater, soils and runoff so close to the beaches of the West End."
"I think the scale is so small, I haven't seen the impact," Vialet said, regarding the environmental impact.
Vialet told the Source that Apfel will appear at the August 8 meeting with a PowerPoint presentation. DPNR Commissioner Jean-Pierre Oriol has also been invited and Vialet hopes he and other members of the department will appear to answer questions.
A draft amendment is in preparation and will be presented to the 34th legislature during the next session in September. Vialet said the new bill will prevent a zoning code that doesn't lead to a full-scale distillery. He did not say, however, whether or not the new bill will shut down the West End rum distillery.
"I thought (the legislation) was good," Vialet said. "I'm looking for an extension to Sainte-Croix. You know we need jobs.